Oyster mushroom soup with rajbanička (noodles)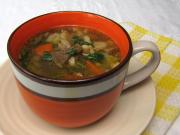 Thick mushroom soup with vegetables and tasty homemade noodles - rajbanička.
recipe,photo-recipe,oyster mushroom,carrots,onion,Mushroom soups
Mushroom soups
Recipe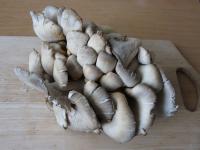 2.
carrots 5.25 oz (150 g) • parsley 1.75 oz (50 g) • onion 3.5 oz (100 g)
...and cut into strips. Clean the carrots and parsley, cut them into wheels. Peel the onion and cut it finely.
3.
sunflower oil 2 tbsp (30 ml)
Warm the oil in a pot and fry the onion on it.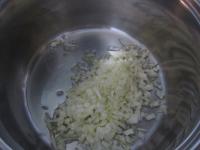 4.
unsalted butter 0.75 oz (20 g)
Add vegetables and a piece of butter. Fry the vegetables in butter.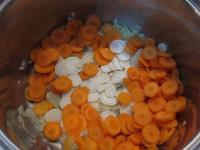 5.
salt 1 tsp • ground caraway 0.5 tsp • ground black pepper 0.5 tsp • water 2.1 quart (2000 ml)
Add oyster mushrooms, salt, caraway and spices. Stir and pour hot water. Cook for 20 minutes, until the vegetables are soft.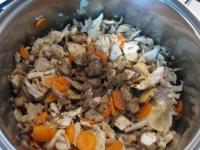 6.
meal 4.5 oz (125 g) • chicken egg 1 pc
Mix flour (adjust the amount according to the size of the egg) and eggs.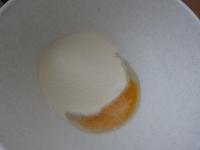 7.
Knead solid dough, let it rest for a while and knead again.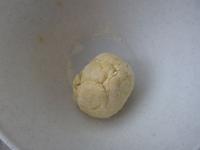 8.
Grate the dough on a coarse grater.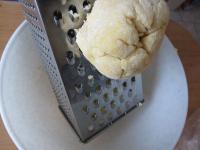 9.
Grated rajbanička put on a paper napkin and let it dry.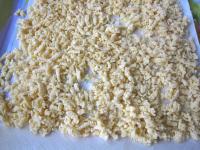 10.
spring onion 2 pcs
Cut the tops from the onion. Add it to the cooked soup.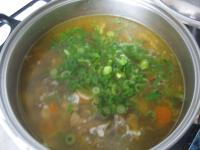 11.
Add half of rajbanička, cook for a few minutes. Add salt and and chopped parsley.
The rest of the noodles - rajbanička can be stored in a microtene bag in the freezer and later used in another soup.
Bon appetit!