Spinach Salad with Pasta and Mozzarella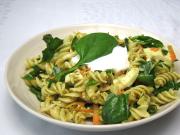 Easy diet salad full of vegetables and mozzarella, flavoured with healthy walnuts and yoghurt dressing.
recipe,photo-recipe,pasta - Fusilli (spiral),fresh spinach leaves,mozzarella cheese,Vegetable salads,Seasonal recipes
Vegetable salads
Recipe
1.
pasta - Fusilli (spiral) 8.5 oz (240 g)
Cook pasta in salted water until it is al dente. Drain it, rinse with cold water and drip off.
2.
carrots 3.5 oz (100 g) • white radish 7 oz (200 g)
Peel carrot and radish, grate them coarsely. Put them in deep, large bowl. We can also use small red radishes instead of the white one.
3.
fresh spinach leaves 3.5 oz (100 g)
Wash spinach leaves, drain them and gently chop or tear into small pieces.
4.
Add pasta to the grated vegetables together with spinach leaves and mix.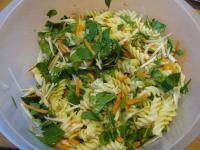 6.
walnuts 1.75 oz (50 g)
... finely chop walnuts ...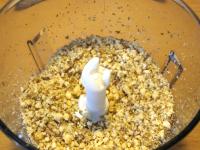 7.
... and mix them into salad.
9.
Place salad into refrigerator for one hour (or more) to rest. Take salad out of the fridge half an hour before serving, not being too cold.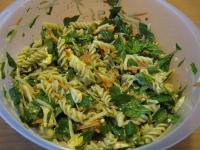 10.
white yogurt ¾ cup (200 ml) • garlic 2 cloves • salt 0.25 tsp • balsamic vinegar 3 tsp
Mix yoghurt with peeled pressed garlic, salt and balsamic vinegar. Pour dressing over the salad before serving.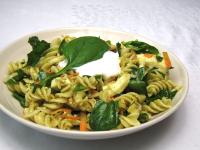 Bon appetit!