Stuffed vegan pumpkin
Tasty stuffed pumpkin without meat. Serve with a potato side dish.
recipe,photo-recipe,pumpkin,Vegetarian dishes,Vegan recipes,Vegetarian recipes,Gluten-Free,Lactose-Free
Vegetarian dishes
Recipe
1.
mushrooms 8.75 oz (250 g)
Wash the mushrooms and cut them into slices.
2.
leek 3.5 oz (100 g) • red pepper 8.75 oz (250 g)
Clean the leek, cut it into wheels. Wash the pepper, clean it and cut into cubes.
3.
onion 3.5 oz (100 g) • sunflower oil 2 tbsp (30 ml)
Peel onion, chop it finely and fry in oil.
4.
Add leek to the onion, ...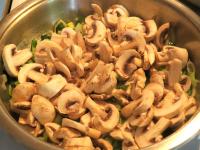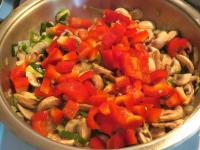 7.
white tofu 6.25 oz (180 g) • chickpea flour fine 3 tbsp
Stir crushed tofu into cooled vegetables and thicken with flour (you can also use the usuall flour).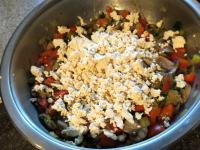 8.
Wash the pumpkin and cut it in half lengthwise. Use a spoon to remove the kernels. Don't peel the pumpkin.
9.
Pour a little oil on the baking sheet, place the pumpkin on it and fill with the prepared filling.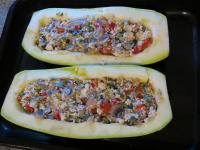 10.
Cover the pumpkin with foil and bake at 670°F (355°C) F (355°F (180°C) C) for 30 minutes. Uncover the softened pumpkins and bake at 735°F (390°C) F (390°F (200°C) C) for about 30 minutes. Cut only after cooling to the consumption temperature.
Bon appetit!