Tuscan Bean Soup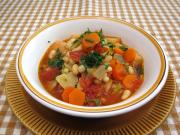 Ribollita is a traditional Italian soup from the Tuscany region. This rich soup is made of various vegetables and there are many guaranteed recipes for the preparation. Try the one we are offering. It is well tried and we confirm it is delicious.
recipe,photo-recipe,carrots,sterilized tomatoes,sterilized white beans,Legume soups,Seasonal recipes
Legume soups
Recipe
1.
onion 2.75 oz (80 g) • olive oil 2 tbsp (30 ml)
Peel onion and chop it finely. Slightly cook it in oil.
2.
garlic 4 cloves • carrots 5.25 oz (150 g) • leek 5.25 oz (150 g)
Peel garlic and slice it. Cut peeled and washed carrot into rounds. Wash leek, cut it into quarters lengthwise and chop into pieces. Add vegetables to the onion and cook it all together for a while.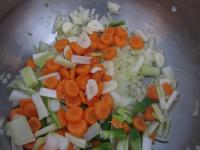 4.
ground black pepper 0.5 tsp • bay leaf 4 pcs
Pour bouillon to vegetables, add ground black pepper, bay leaf and cook for 20 minutes.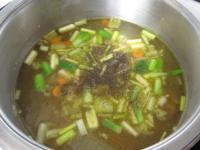 5.
sterilized tomatoes 14 oz (400 g)
Put into the soup finely chopped canned tomatoes together with the brine. Bring to the boil.
6.
sterilized white beans 14 oz (400 g) • tomato paste • salt • fresh spinach leaves • basil • parsley leaves
Stir in beans, few spoons of tomato paste to your taste and season with salt. Use canned beans, or soak 250 g of dried beans overnight and cook them in the separate pot until soft. At the end add leaves of fresh spinach or we can decorate the soup with chopped fresh spinach, basil or parsley leaves when serving it.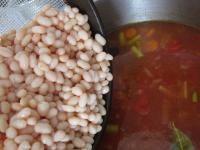 7. Garlic bread with cheese
garlic 4 cloves • olive oil 3 tbsp • toasted bread 6 pcs • semi hard cheese 5.25 oz (150 g)
Prepare roasted bread with the soup. Press peeled garlic and mix it with olive oil. Brush slices of white bread with this oil and sprinkle them with grated cheese (Parmesan is the best option).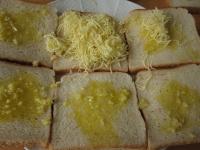 8.
Roast slices of bread in the oven until golden.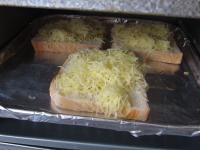 9.
Place roasted garlic bread in a bowl and pour dense soup on it.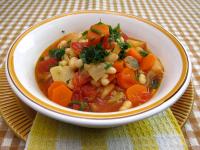 10.
Toast bread can be served in the soup also cut into cubes.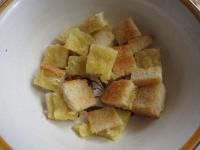 Bon appetit!