Banana canapes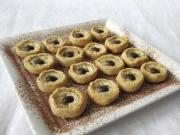 recipe,photo-recipe,banana,Biscuits,Christmas
Biscuits
Recipe
2.
Cut the rested dough into half.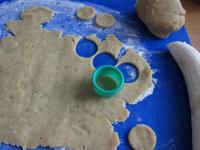 4.
egg white 1 pc
Place the rounds on a baking tin with parchment paper. Spread beaten egg white over them.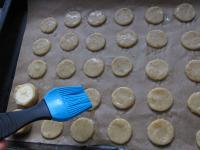 5.
banana 3 pcs
Admix rounds leftovers with the second half of the dough. Peel the bananas and cut off their curved ends. Use a rolling pin to spread the dough until it is about 3-4 mm thick and cover straight parts of bananas.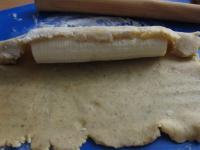 6.
Slice bananas in the dough into 0,5 cm rounds. Spread egg white over one side ...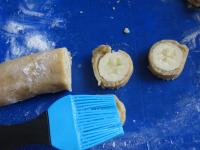 7.
... and place them into the baking tin with spread part at the bottom. Bake in preheated oven 20 minutes at 355°F (180°C).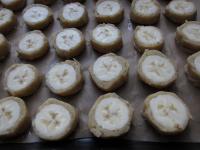 8.
Once cooled, spray chocolate pupils on the eyes from melted chocolate.
9.
Serve on a plate sprinkled with sifted cocoa powder and sugar.
Bon appetit!