Dill sauce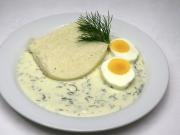 Simply a great side dish for aromatic dill lovers. Can be served with dumplings and a hard boiled egg.
recipe,photo-recipe,dill,whole milk 3.5%,whipping cream (30-33% fat),Sauces,Slovak cuisine,Seasonal recipes
Sauces
Slovak cuisine
Recipe
1.
Wash the fresh dill...
2.
...and rip it from the thick stalk. Finely chop. The amount of dill depends on your taste.
5.
water 1.1 cup (250 ml) • whole milk 3.5% 2.1 cup (500 ml) • salt 1.5 tsp • sugar granulated 1.5 tsp
... and put in hot water first, then milk and cook until smooth. Based on need (if lumps are formed) we strain it. Add dill, salt and sugar and cook it for 5 minutes while stirring.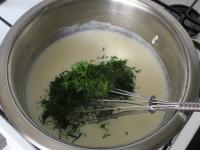 Bon appetit!